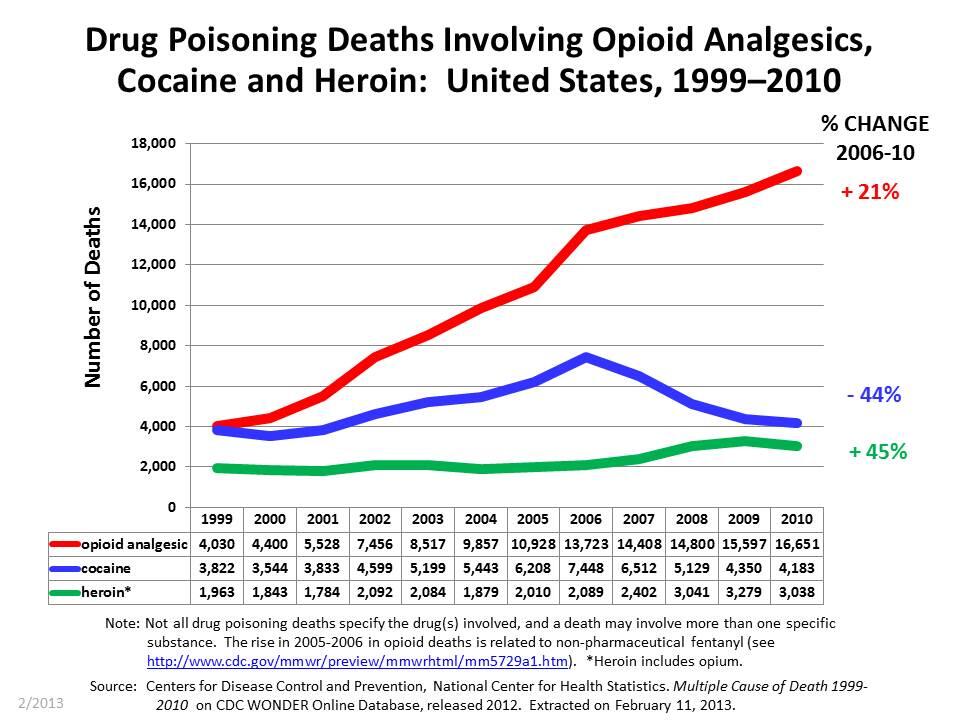 Pain is a big deal. On one level, it's very useful. It tells us when there's something wrong, and is pretty efficient at giving us a handy indication when what we're doing may not be particularly good for us. Those who cannot feel pain [1] suffer from horrendous associated problems, and frequently damage themselves quite badly without being alerted to the fact that they're doing so by pain. However, unlike a man-made alarm, the body does not come with an 'off' switch which one can hit once one's been made aware of the problem. Chronic pain is a major issue, and one of the most troubling symptoms of a great many medical conditions. It's a factor which seriously affects people's lives, and good pain management is recognized as being vital to the all-important quality of life [2] experienced by those needing medical treatment. Having said this, however, it is also being increasingly recognized that the people of North America are becoming dangerously dependent upon prescription painkillers. All too often, we pop a pill when we do not really need to, and plenty of us are relying on prescribed narcotic painkillers when we would undoubtedly be a lot better off with some other method of pain-relief. While there is certainly a place for narcotic painkillers in the management of seriously painful conditions, it needs to be recognized that these drugs do come with a major health warning – and alternatives or avoidance should be the preferred options if at all possible.
Narcotic Painkillers
Opioid painkillers were originally designed for cancer pain and somehow over time have become a first line therapy for many physicians despite the potential for addiction. What may be lesser known, however, are the dangers inherent within these drugs, and the startling scope of America's dependence upon them. Put simply, opioids such as Vicodin and codeine bind to opioid receptors within the brain, which dulls the brain's pain response. These receptors are designed to work with the body's natural opioids – endorphins [3]. Endorphins are released during exercise, and numb pain as well as promoting a feeling of wellbeing, enabling and motivating us to stay on the move and thus potentially to survive for longer. Narcotics fulfil the same role – but in hyper-exaggerated form. Narcotic analgesics swamp our opioid receptors, saturate them to the point where we're utterly numbed and frequently rather high. They're very effective as a method of pain relief, but also quite dangerous and are associated with a host of dangerous side effects.
Painkiller Addiction
It's very easy to develop a taste for opioid painkillers. Why wouldn't you? They keep pain at bay, and they make you feel good. They're also, unfortunately, highly addictive. Their very nature means that you're inclined to seek out more and more – and America's healthcare system doesn't exactly discourage you from overdoing it. Big pharmaceutical companies do, after all, stand to make a lot of money from plenty of pill-popping patients. North America has the world's worst rate of prescription painkiller addiction by a long, long way [4]. Places with nationalized healthcare (in which pharmaceutical companies would have nothing to gain from touting their product to the public) are not in any more pain than the people of America, but they're far less addicted to painkillers. The solution for someone from the USA to the slightest malady invariably involves popping a pill, while those from other countries are put on courses of pills only when necessary, and given alternative pain-relief methods more often. Each system obviously has its pros and cons – but in this particular case the figures concerning painkiller addiction speak for themselves. More overdose deaths in the USA have been caused by prescription narcotics since 2003 than cocaine and heroin put together – partly (if not wholly) because narcotic prescription rates have increased enormously in this time [5].
An Easy Death
A major issue with opioid painkillers is that they're not only all too easy to get hold of, and highly addictive – they're also unpredictable killers. While medical science is pretty good at estimating doses according to body weight and so on, the problem of tolerance is always going to rear its ugly head. The body develops a resistance to opioids over time which means that one must take a higher and higher dose in order to achieve the desired effect. And, at any moment, that dose might prove just too high for the body to cope with. Opioids kill in a number of ways. The most common of these is respiratory depression. This can be reversed – but only if the overdose is low and medical aid arrives quickly [6]. If this is not the case, then the overdoser finds themselves unable to adequately fill their lungs and essentially starves of oxygen. It is far better not to risk this, not to get addicted, and to seek alternatives to narcotic analgesics whenever possible!
[1] Gillian Mahoney, "Meet the Child Who Feels No Pain", ABC, Oct 2013
[2] Nathanial Katz, "The Impact of Pain Management on Quality Of Life", Journal of Pain and Symptom Management, Jul 2002
[3] PBS, "Role of endorphins discovered, 1975"
[4] Arnold M. Washington, "America's Painful Love Affair With Painkillers", Rehabs
[5] National Safety Council, "Opioid painkillers: How they work and why they can be risky"
[6] Ben Wolford, "Respiratory Depression Reversed In Trials With Drug That Fights Opioid Side Effect", Medical Daily, Aug 2014